Japanese Traditional Technique of Dyeing
We do stencil dying, textile printing dyeing, etc., mainly using a technique called "Tsutsugaki-zome (glue resist dyeing). When we do Tsutsugaki-zome, we press glue for preventing a dye from soaking into cloth out of tubes while drawing on cloth. Most objects that are closely related to everyday life including screens used at Japanese shrines or temples, flags, bedclothes, oilcloth, happi coats, wrapping cloth, shop curtains are dyed goods that are similar to what we make.
Tsustugaki-zome (Glue Resist Dyeing)
We press glue made from glutinous rice out of tubes while drawing letters or paintings. We use glue to prevent a dye from soaking into cloth. Although there are various theories about its origin, techniques of dyeing that use glue as resist have existed from old times. It is said that war flags might be the origin. Today, the technique is use to make Tairyo-bata (Fishing boat flags that is used to notify a good catch to other fishermen), flags used in Japanese shrines, etc., as its design and workmanship are dynamic. We use traditional glue of glutinous rice's powder and rice bran kneaded by craftsmen.
Stencil Dyeing
When we do stencil dyeing, we create "stencils" by carving patterns and letters on paper that has a strong resistant to water like astringent skins, synthetic paper, etc., and stain patterns by putting glue on the stencils. Basically, glue resist dyeing or stencil dyeing is used in designs of textiles for Kyo-Yuzen. In our stencils which seem to have made in Meiji Period, colorful and delicate patterns based on historical events are carved. Craftsmen in ancient times expressed humor and stylishness inside their heart, using these designs.
Learning Indigo-Dyeing from Dyers
You can gain first-hand experience of learning dyeing from our dyers. There are two courses: a light course in which you can experience lightheartedly by using designs we have already prepared and finished applicating glue and a full-scale course in which you can experience application of glue to dyeing after choosing stencils you want to use from existing ones. We hope it becomes the best memory for you by experiencing Japanese traditional dyeing techniques.
You can Participate with Empty Hands! Dyers Themselves Teach You! Learn Japanese Traditional Dyeing Techniques!
Content of experience courses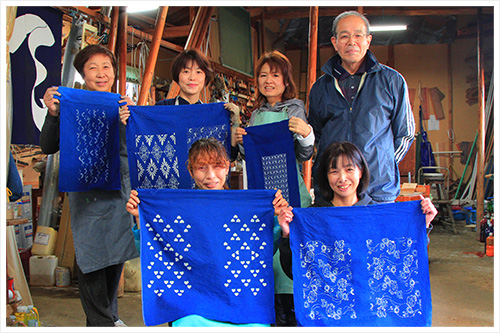 1Meeting up at our shop

We ask you to come to Yuba Dyer. We'll guide you to our workshop in the back of the shop.

2Explanation

We'll explain the history of dyeing.

3Carving stencils

*You can make your own stencils with your own design if you want to.

4Choosing stencils

Please choose stencils you want to use from several kinds of fine-patterned stencils we have inherited from when we started our shop in Meiji Period.
5Application of glue

Put frames on stencils, and applicate paste on cloth uniformly. After soaking paste by sprinkling water from the back, we'll dry it.

6Dip-dyeing

Dip cloth into liquid of indigo, and dry it. After drying, we'll dip it again, and repeat these steps.

7Drying

After washing a cloth in water, dry it.

8Completion

Please bring dyed cloth home. *If you want to, we'll make something with it. (It costs 1,000 – 1,500 yen separately. We'll send tailored goods on another day.)
Experience Course
Indigo-Dyeing Experience Course
Time / Time required
①9:00 a.m. - 4:00 p.m.
It takes about seven hours.
*There's a short-term course. If you dye with our designated stencils, you can finish the course in two hours.
Content of the course
It's a full-scale course in which you can experience dyeing from masking with stencils you design or stencils you choose from ours.
Things you need to prepare
A design that you can carve in an hour. Please send it beforehand by fax or e-mail.
Fee
6,000 yen(Tax included)
*It includes fee for experience and material cost.
Charge for tailoring
We charge you 1,000 yen to 1,500 yen. (We'll send tailored goods on another day.)
*The charge will change depending on what you order.
Number of participants
Up to 10 people
Access
Mifuku-ya Yuba Dyer
2-1389-3, Tonomachi, Nakatsu City, Oita, 871-0055, Japan
TEL:+81-979-22-1660 FAX:+81-979-53-7743
Parking slots: 2 cars